AL110 - Pesky Patterns
This is the one hundred and tenth puzzle you'll encounter in Professor Layton and the Azran Legacy. To access this puzzle, you must talk to Felicia. In order to solve this puzzle, you must arrange each net on the card so that the entire card is used.
[edit]
Messages
[edit]
When Failed
You cannot fail this puzzle.
[edit]
When Completed
Well, that's that wrapped up!
That's how you make eight gift boxes from the leftover card. And there aren't even any scraps to clean up at the end either!
[edit]
Solution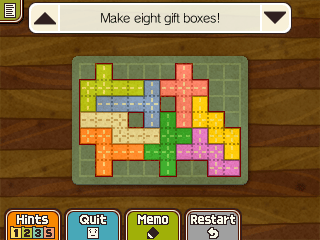 Create the gift boxes as shown.
[edit]
Progress
3885 Picarats and 242 Hint Coins.