AL115 - Dial Trial 2
This is the one hundred and fifteenth puzzle you'll encounter in Professor Layton and the Azran Legacy. To access this puzzle, you must interact with the door. In order to solve this puzzle, you must make sure all four sides add up to the same number by rotating the dials.
[edit]
Messages
[edit]
When Failed
Too bad.
Make sure you haven't made a mistake in your calculations.
[edit]
When Completed
You've certainly got this puzzle's number!
The symbols in each of the four quadrants should have a total value of 19.
So much for Targent security!
[edit]
Solution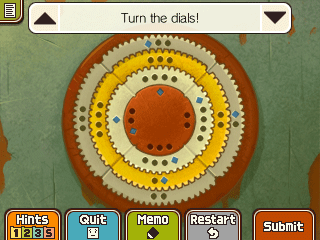 Rotate the dials as shown.
[edit]
Progress
4090 Picarats and 253 Hint Coins.