AL121 - Touch Ten Buttons
This is the one hundred and twenty-first puzzle you'll encounter in Professor Layton and the Azran Legacy. To access this puzzle, you must interact with the elevator. In order to solve this puzzle, you must touch the correct buttons to operate the elevator.
[edit]
Messages
[edit]
When Failed
Oh dear...
At least you haven't triggered any security systems!
[edit]
When Completed
On the button!
Now, let's move on!
[edit]
Solution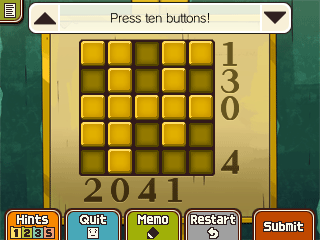 Touch the buttons as shown.
[edit]
Progress
4320 Picarats and 266 Hint Coins.