AL127 - Bemused Bunnies 2
This is the one hundred and twenty-seventh puzzle you'll encounter in Professor Layton and the Azran Legacy. To access this puzzle, you must talk to Hazel. In order to solve this puzzle, you must rearrange the tiles so that paths are created for the bunnies to make it home.
[edit]
Messages
[edit]
When Failed
Too bad.
Take another look at your solution and make sure there aren't any places where the paths don't quite line up.
[edit]
When Completed
Nice work!
The black and white rabbits will be able to return to the comfort of their own homes now!
[edit]
Solution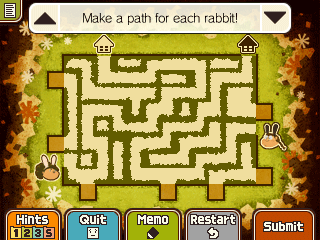 Arrange the tiles as shown.
[edit]
Progress
4560 Picarats and 269 Hint Coins.