AL131 - Forest Friends 2
This is the one hundred and thirty-first puzzle you'll encounter in Professor Layton and the Azran Legacy. To access this puzzle, you must talk to Chanterelle. In order to solve this puzzle, you must arrange the animals according to their rules, so that the man can make it out of the forest.
[edit]
Messages
[edit]
When Failed
Too bad.
Make sure the man is sent directly from one animal to the next so that he gets home safe!
[edit]
When Completed
Good work!
He's managed to make it out of the forest! It's just a shame it cost him almost all of his apples.
[edit]
Solution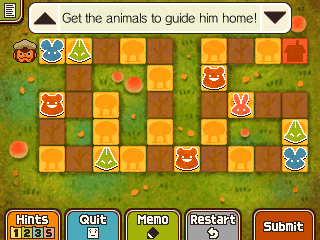 Arrange the animals as shown.
[edit]
Progress
4740 Picarats and 269 Hint Coins.