AL134 - Airship's Destination 3
This is the one hundred and thirty-fourth puzzle you'll encounter in Professor Layton and the Azran Legacy. To access this puzzle, you must talk to Martine. In order to solve this puzzle, you must make sure the airship makes it to each stop on the map.
[edit]
Messages
[edit]
When Failed
You cannot fail this puzzle.
[edit]
When Completed
Correct!
Hopefully Martine will use a better map next time she goes on a trip!
[edit]
Solution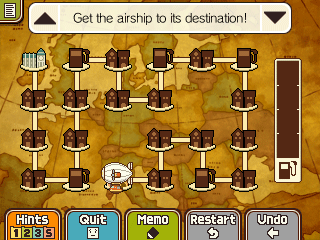 Take the route as shown.
[edit]
Progress
4910 Picarats and 269 Hint Coins.