AL135 - A String of Jewels 2
This is the one hundred and thirty-fifth puzzle you'll encounter in Professor Layton and the Azran Legacy. To access this puzzle, you must talk to Flint. In order to solve this puzzle, you must rope the crooks while keeping the jewels out of the rope, using all the posts.
[edit]
Messages
[edit]
When Failed
Too bad.
Check again and make sure you're using all the posts in the vault.
[edit]
When Completed
Outstanding!
That's all the bandits tied up tight!
[edit]
Solution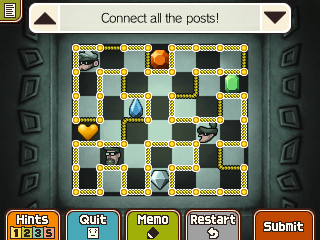 Connect the posts as shown.
[edit]
Progress
4960 Picarats and 269 Hint Coins.