AL136 - Directing a Delivery 3
This is the one hundred and thirty-sixth puzzle you'll encounter in Professor Layton and the Azran Legacy. To access this puzzle, you must talk to Derringer. In order to solve this puzzle, you must arrange the tiles to indicate which animal symbolizes which direction, so that the clown can make it across to the other side.
[edit]
Messages
[edit]
When Failed
You cannot fail this puzzle.
[edit]
When Completed
No clowning around for you!
The commands need to be assigned as follows:
Cat = turn left
Bear = turn right
Rabbit = jump a square
Elephant = go forwards
The little girl was disappointed by the flowers but she loved the balancing-ball act!
[edit]
Solution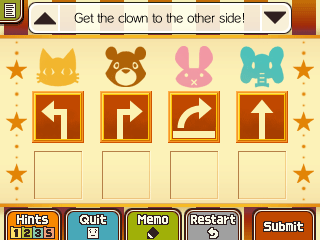 Arrange the commands as shown.
[edit]
Progress
5020 Picarats and 269 Hint Coins.