AL137 - A Troublesome Tent 2
This is the one hundred and thirty-seventh puzzle you'll encounter in Professor Layton and the Azran Legacy. To access this puzzle, you must talk to Rik. In order to solve this puzzle, you must fit the tent pieces back together, making sure touching sides fit together as a pattern.
[edit]
Messages
[edit]
When Failed
Too bad.
Have you worked out which piece is the unnecessary one? Maybe try doing that first.
[edit]
When Completed
Job done!
That's one tip-top tepee!
The city landscape no doubt stands out a bit here, between the mountains and trees, but it doesn't make it any less adorable!
[edit]
Solution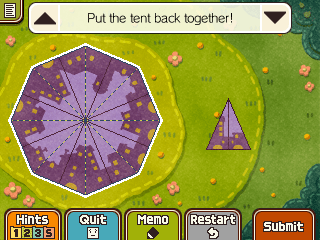 Fit the tent pieces as shown.
[edit]
Progress
5060 Picarats and 269 Hint Coins.