AL138 - In the Balance 2
This is the one hundred and thirty-eighth puzzle you'll encounter in Professor Layton and the Azran Legacy. To access this puzzle, you must talk to Sheppard. In order to solve this puzzle, you must balance the bags so that each side of the air balloon is equally weighted.
[edit]
Messages
[edit]
When Failed
Too bad.
Check each point individually one more time.
[edit]
When Completed
Well balanced!
The weight of the bags around each point should add up to 19 kilograms.
Sheppard's balloon trip should go without a hitch now!
[edit]
Solution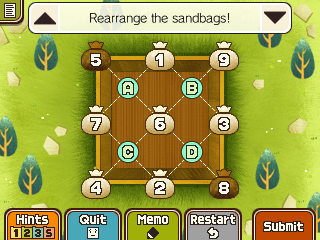 Arrange the sandbags as shown.
[edit]
Progress
5100 Picarats and 269 Hint Coins.