AL139 - A Puzzling Pyramid 2
This is the one hundred and thirty-ninth puzzle you'll encounter in Professor Layton and the Azran Legacy. To access this puzzle, you must talk to Temir. In order to solve this puzzle, you must arrange the blocks so that each number equals the subtraction of the two numbers below it.
[edit]
Messages
[edit]
When Failed
Too bad.
Think about each block in the pyramid one at a time.
[edit]
When Completed
That's right!
You've successfully completed the pyramid! May it last for many millennia!
[edit]
Solution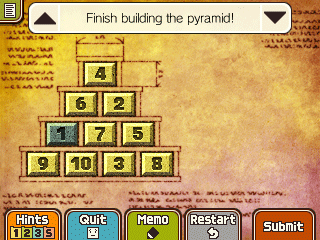 Arrange the bricks as shown.
[edit]
Progress
5150 Picarats and 269 Hint Coins.