AL140 - Potion Placement 2
This is the one hundred and fortieth puzzle you'll encounter in Professor Layton and the Azran Legacy. To access this puzzle, you must talk to Dana. In order to solve this puzzle, you must correctly place the potions according to each rule.
[edit]
Messages
[edit]
When Failed
Too bad.
Check the conditions for where to place each potion once more.
[edit]
When Completed
Wicked!
Now all the potions are exactly where the witch wants them.
But wouldn't it make more sense to just keep them all in the same place?
[edit]
Solution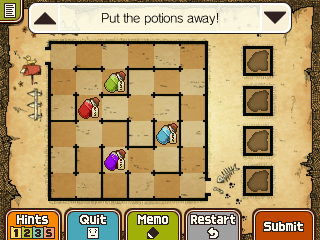 Place the potions as shown.
[edit]
Progress
5190 Picarats and 269 Hint Coins.