AL145 - Riddle-Me-Key
This is the one hundred and forty-fifth puzzle you'll encounter in Professor Layton and the Azran Legacy. To access this puzzle, you must interact with the door. In order to solve this puzzle, you must place the correct stones into the slots to make the door open.
[edit]
Messages
[edit]
When Failed
Too bad.
There's one key thing you need to realise. Then the puzzle will be much easier!
[edit]
When Completed
A worthy answer!
The patterns on the stones seem utterly bizarre at first, but on closer inspection, the answer is nothing more complex than a six-sided die.
Did you notice that you can swap the positions of the 1 and 6 and still get the same result?
[edit]
Solution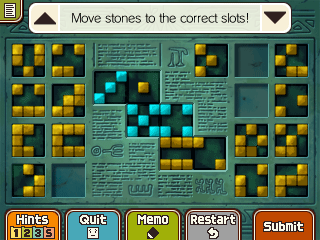 Arrange the stones as shown.
[edit]
Progress
5375 Picarats and 281 Hint Coins.