AL152 - Touch Ten Buttons 2
This is the one hundred and fifty-second puzzle you'll encounter in Professor Layton and the Azran Legacy. This puzzle can be accessed through Professor Layton's Challenges. In order to solve this puzzle, you must press the correct buttons.
[edit]
Messages
[edit]
When Failed
Oh dear...
At least the lift gives you more than one chance to enter the correct combination!
[edit]
When Completed
Ten out of ten!
The lift door opens, but where will it take you?
[edit]
Solution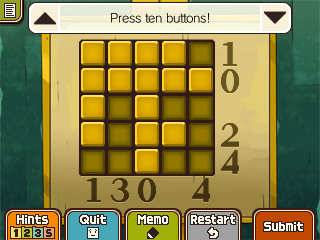 Press the buttons as shown.
[edit]
Progress
5725 Picarats and 300 Hint Coins.