AL156 - Lighten Up 3
This is the one hundred and fifty-sixth puzzle you'll encounter in Professor Layton and the Azran Legacy. This puzzle can be accessed through Professor Layton's Challenges. In order to solve this puzzle, you must arrange the lanterns correctly that all the streets are lit up, and no same colored lanterns' lights overlap.
[edit]
Messages
[edit]
When Failed
Too bad.
Check carefully that there are no places where the beam from one lantern cuts across a beam of the same colour from a different lantern.
[edit]
When Completed
Well done!
Look at the lanterns reflecting off the surface of the lake. Glorious!
[edit]
Solution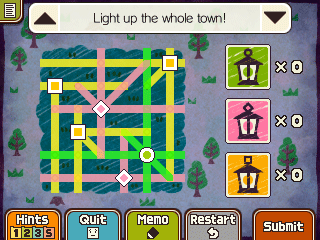 Arrange the lanterns as shown.
[edit]
Progress
5945 Picarats and 300 Hint Coins.