AL158 - A Puzzling Pyramid 3
This is the one hundred and fifty-eighth puzzle you'll encounter in Professor Layton and the Azran Legacy. This puzzle can be accessed through Professor Layton's Challenges. In order to solve this puzzle, you must arrange all the blocks so that each number is the subtraction of the two numbers below it.
[edit]
Messages
[edit]
When Failed
Too bad.
Think about each block in the pyramid one at a time.
[edit]
When Completed
Not too shabby!
You've built that pyramid to the king's liking. If he ever wants any more pyramids built, you'll be the first person he calls!
[edit]
Solution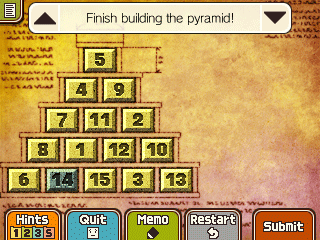 Arrange the bricks as shown.
[edit]
Progress
6055 Picarats and 300 Hint Coins.