AL159 - Blooming Flowers 3
This is the one hundred and fifty-ninth puzzle you'll encounter in Professor Layton and the Azran Legacy. This puzzle can be accessed through Professor Layton's Challenges. In order to solve this puzzle, you must arrange the flowers so that they form a pattern.
[edit]
Messages
[edit]
When Failed
You cannot fail this puzzle.
[edit]
When Completed
Brilliant!
These flowers shot up so quickly, they must be feeling a little daisy!
[edit]
Solution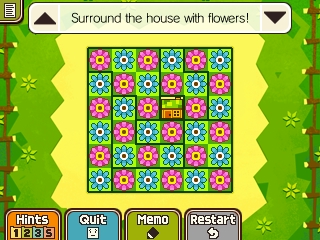 Arrange the flowers as shown.
[edit]
Progress
6125 Picarats and 300 Hint Coins.