A Clean Sweep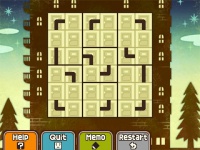 A Clean Sweep is a set of daily puzzles released for Professor Layton and the Azran Legacy. It is the sixth set of daily puzzles.
"Plot the most efficient route for hotel housekeeping."
[edit]
How to Solve
Draw a route on the Touch Screen that travels through as many rooms only once. Since a room can't be visited twice, junctions are not allowed. If a room can't be visited, tap the door to highlight it blue, and tap it again to leave it blank. There must not be any non-visited rooms adjacent to each other. The hotel will be divided into outlined areas, and can only be entered or exited once.
You must clean as many rooms as possible without leaving spaces adjacent to each other to solve the puzzle.
[edit]
List of Puzzles