A Dish Too Far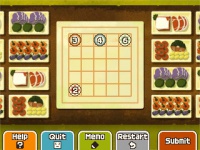 A Dish Too Far is a set of daily puzzles released for Professor Layton and the Miracle Mask. It is the thirteenth set of daily puzzles that were revealed.
"Good evening! Table for 13? Right this way. Ah, table for 24, madam? No, no, that's absolutely fine. We have the country's finest chefs. I guarantee that all your food will be served piping hot!"
[edit]
How to Solve
Numbers that appear on top of a plate indicates how many plates are in the stack. Use the stylus to slide plates from the stack into adjacent squares. When the number reaches 1, you are not required to slide any more plates from the stack.
Each color-coded stack must not touch another stack of plates. Touch an empty square to place a tick to keep track of spaces that cannot have plates in them.
You must place out all the plates and keeping each stack separate to solve the puzzle.
[edit]
List of Puzzles