Aerial View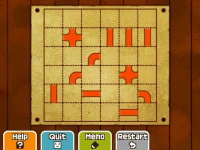 Aerial View is a set of daily puzzles released for Professor Layton and the Miracle Mask. It is the sixteenth set of daily puzzles that were revealed.
"Look, I said I want you to map me out a flight path! What? No, I don't care how you do it, as long as it gets me where I want to go. Yes, it can overlap. But no T-junctions, understand?"
[edit]
How to Solve
Simply draw lines with the stylus on the touch screen to map out a path for the plane to take. The route must go through every square on the grid. Include all the points already marked on the grid in the route.
The path must be continuous, and must not retrace part of the route; four-way crossings are allowed, but no T-junctions. In addition, the plane must not be able to turn on a four-way path; it must continue straight ahead.
You must make one continuous path, filling up every square, to solve the puzzle.
[edit]
List of Puzzles