An Oeuf is Not Enough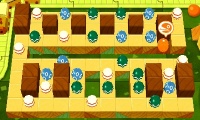 An Oeuf is Not Enough is a set of daily puzzles released for Professor Layton and the Azran Legacy. It is the thirteenth set of daily puzzles.
"Make sure the hungry snake gets its fill of eggs."
[edit]
How to Solve
Move the snake around the board with the arrows on the Touch Screen or D Pad, and guide it towards the eggs. With each egg it consumes, the snake will increase in size by one tile. The snake is unable to turn back on itself, and should not bump into its own body.
You most collect all the eggs to solve the puzzle.
[edit]
List of Puzzles