Anton Herzen
Anton Herzen (Anthony in Japanese games) is the Duke of Folsense. He is the son of the previous Duke, Duke Herzen, and is the older brother to Beluga.
[edit]
Appearance
Although he looks relatively young, he is actually much, much older. His younger demeanor is a result of hallucinogenic released from a mysterious mineral only found in the elusive town of Folsense. Without the illusionary facade, Anton is actually well into his seventies.
During his younger years, he had fallen in love with a woman called Sophia. After she became pregnant with Anton's child she ran away from him and the city of Folsense, only leaving a letter in her wake addressed to Anton detailing her reasons as to her leaving. After his love's departure, he remained sheltered in his castle, having only his butler Nigel as company. On many occasions he took people from the town only to set them free so they could weave tales on a vampire in order for people to steer clear of the castle.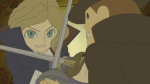 Upon the arrival of Professor Layton and Luke into the castle, Anton invites them to stay the night and throws them into a locked cell beneath the castle. As they escape, Anton sees Katia, who looks remarkably like Sophia, and mistakes her for his long departed love, because of his he marks Layton as the enemy due to thinking he is trying to steal away his true love. As the two meet in the Castle lobby, Layton and Anton duel with swords picked off the wall, however one is a replica and the other is real. Half way through the fight, Herzen loses all his energy. Katia tells the two to stop the fight which sends Anton into a fit of rage and he knocks down the chandelier which falls and blocks the hole that leads to the mines where the hallucinogenic gas emanates from.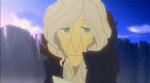 After the hole is blocked, the illusion of the bustling Folsense fades away to reveal a derelict town. Not only this but the illusion of him young fades away revealing him to be a frail old man, after which he realises his mistake and notices that Katia isn't his lost love, but in fact his own granddaughter. After a short conversation, Luke shows Anton the Elysian Box which included a cryptic message as to how to unlock its secret contents. As the puzzle is solved, Luke notices a message from Sophia in the base of the box saying that she had left Folsense for a very long time and was never coming back. The last we see of Anton is him looking toward the sky saying that he will see Sophia soon, but he has to get to know someone very important first.

[edit]
Biography
"Though rumored to be a vampire, Anton is actually the current duke of Folsense. Fifty years ago, Anton was separated from his love, Sophia, a blow from which he never truly recovered. He is also the elder brother of Beluga."