Aunt Taffy
Aunt Taffy is a sweet stall owner who appears in Professor Layton and the Last Specter. She can always be seen at the entrance to the Market, and will only sell her candy to children.
[edit]
Appearance
Aunt Taffy wears rounded glasses, navy hat, navy jacket, pink scarf and carries around a basket full of sweets.
[edit]
Puzzles
Aunt Taffy gives the following puzzles in Professor Layton and the Last Specter:
After completing the puzzle Candy Counter, Aunt Taffy gives the action Simmered for the Puppet mini-game.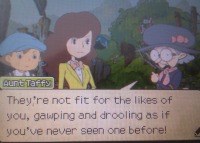 During Chapter 4, Emmy, Luke and Professor Layton search the market in order to reveal the secretive Black Market. It is believed that the Black Market sold The Specter's Flute to Evan Barde over a year ago. They first meet Aunt Taffy at the entrance to the Market. When Emmy was eyeing off her candy, she immediately told her to leave, as she only sold her sweets to children.
When the trio are informed that Aunt Taffy is knowledgeable about the happenings in Misthallery, they make their way back to her stall to inquire about the Black Market. She gives minimal information, but leads them in the direction of one of her regular customers, Tweeds, who she had overheard talking about the Black Market earlier.

[edit]
Biography
"Taffy is a little old lady who sells sweets, though sweet she is anything but. She has a policy of handing her lovingly made confectionery only to children and makes no exceptions. They say to get one taste of her sweets is to experience a moment of pure bliss."