Bewitching Night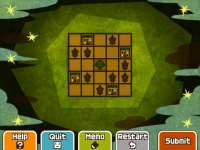 Bewitching Night is a set of daily puzzles released for Professor Layton and the Miracle Mask. It is the seventh set of daily puzzles that were revealed.
"As the neighborhood witch, I take my duties seriously. It's up to me to keep the streets nice and bright, without breaking the bank."
[edit]
How to Solve
Where a silhouette of a light appears, touch one to turn it on or off. Lights turned on will illuminate the tiles horizontal and vertical of it, until blocked by an obstacle.
You are not able to turn a street light where it will shine on another street light which is switched on. This is indicated when both lights turn orange.
You must light the whole area with as little lamps as possible to solve the puzzle.
[edit]
List of Puzzles