Big Block Box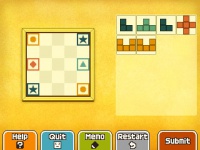 Big Block Box is a set of daily puzzles released for Professor Layton and the Miracle Mask. This is the fourth set of daily puzzles that were revealed.
"Playtime's over and everyone had a lot of fun, but now it's time to tidy up. Putting away all the blocks may seem like a chore at first, but it's very satisfying to fit them all into place."
[edit]
How to Solve
Drag the wooden blocks on the right of the touch screen into the box to place them. You can rotate them if need be.
Tiles with a particular pattern and color on them can only have blocks of the same pattern and color placed down on them. Blocks of the same pattern and color cannot be placed next to each other.
You must successfully fit every block into the box to solve the puzzle.
[edit]
List of Puzzles