CV001 - Where's the Town?
This is the first puzzle you'll encounter in Professor Layton and the Curious Village. This puzzle can be accessed after a cut scene introducing both Professor Layton and Luke. In order to solve this puzzle, you must determine which town is on a road that leads to no other towns.
[edit]
Messages
[edit]
When Failed
Too bad!
If you quit now you'll never make it to town. Give it another try.
[edit]
When Completed
That's correct!
The only town that isn't connected by roads to another town is the one in the upper-left area of the map.
It looks like you're all ready to start solving puzzles!
[edit]
Solution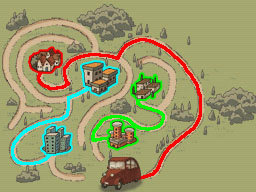 Circle the town as shown.
[edit]
Progress
10 Picarats and 10 Hint Coins.