CV002 - The Crank and Slot
This is the second puzzle that appears in Professor Layton and the Curious Village. To access this puzzle, you must talk to Franco. In order to solve this puzzle, you must determine which slot fits with the crank pictured.
[edit]
Messages
[edit]
When Failed
Too bad!
Take a careful look at the picture. The shape of the slot will be the reverse of the crank.
[edit]
When Completed
Nice job!
Now drop that bridge!
[edit]
Solution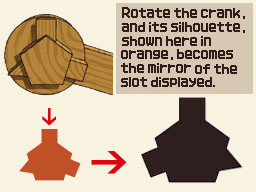 The crank will fit into slot 1.
[edit]
Progress
25 Picarats and 10 Hint Coins.