CV009 - One Poor Pooch
This is the ninth puzzle that appears in Professor Layton and the Curious Village. To access this puzzle, you must interact with the manor's door. In order to solve this puzzle, you must move two of the matchsticks to represent how the dog would look after being hit by a car.
[edit]
Messages
[edit]
When Failed
Try again!
Because the dog was hit by a car, it's probably not walking anymore.
While it's all terribly sad, try to think about how the dog looked after the accident...
[edit]
When Completed
The car flattened the poor dog! Let this be a lesson to be aware of your surroundings when driving!
[edit]
Solution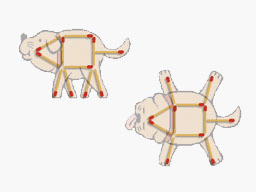 Move the matchsticks as shown.
[edit]
Progress
250 Picarats and 25 Hint Coins.
Related Threads
Poor Pooch
- last post by
@ Jul 18, 2009