CV011 - Arc and Line
This is the eleventh puzzle that appears in Professor Layton and the Curious Village. To access this puzzle, you must talk to Simon. In order to complete this puzzle, you must determine the length of line AC.
[edit]
Messages
[edit]
When Failed
No, no, no!
Look at things again. You shouldn't have to do any difficult calculations to get to the answer.
[edit]
When Completed
Righto!
Diagonal line AC is the exact same length as diagonal line BD. BD is the same length as the radius of the circle, so once you've figured that out, the only thing left to do is add five and five.
[edit]
Solution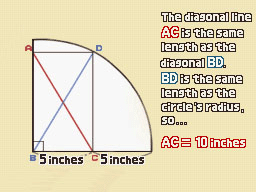 Line AC is 10 inches.
[edit]
Progress
300 Picarats and 31 Hint Coins.