CV012 - Make a Rectangle
This is the twelfth puzzle that appears in Professor Layton and the Curious Village. To access this puzzle, you must talk to Gordon. In order to complete this puzzle, you must cut the paper to form two pieces into a rectangle.
[edit]
Messages
[edit]
When Failed
Nope, give it another try.
[edit]
When Completed
That's right!
Now that you know the answer, the puzzle seems quite simple, doesn't it?
[edit]
Solution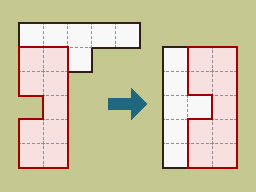 Make a cut as shown.
[edit]
Progress
1875 Picarats and 108 Hint Coins.