CV013 - Sinking Ship
This is the thirteenth puzzle that appears in Professor Layton and the Curious Village. To access this puzzle, you must interact with the boat in the stream. In order to complete this puzzle, you must determine how many people will survive.
[edit]
Messages
[edit]
When Failed
Try again!
By now you've probably come to the realization that one person must stay on the raft in order to pilot it back to the boat and pick up more passengers.
[edit]
When Completed
Nicely done!
A moment of silence for the two who didn't make it, please...
[edit]
Solution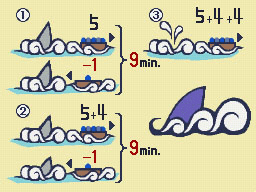 Thirteen people will make it off the ship.
[edit]
Progress
350 Picarats and 31 Hint Coins.