CV018 - Of Dust and Dustpan
This is the eighteenth puzzle that appears in Professor Layton and the Curious Village. To access this puzzle, you must talk to Beatrice. In order to solve this puzzle, you must move two matchsticks so that the dustpan is holding the trash.
[edit]
Messages
[edit]
When Failed
Too bad!
Just move that one and that one right there...
[edit]
When Completed
That's correct!
Do your part to keep St. Mystere clean!
[edit]
Solution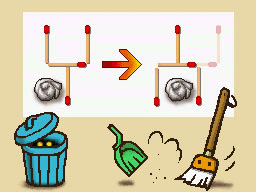 Move the matchsticks as shown.
[edit]
Progress
520 Picarats and 40 Hint Coins.