CV020 - Unfriendly Neighbors
This is the twentieth puzzle that appears in Professor Layton and the Curious Village. To access this puzzle, you must talk to Pauly. In order to solve this puzzle, you must make four different paths between each person's house and work without any paths touching.
[edit]
Messages
[edit]
When Failed
You cannot fail this puzzle.
[edit]
When Completed
That's right!
Now those guys don't even have to look at each other! Good job!
[edit]
Solution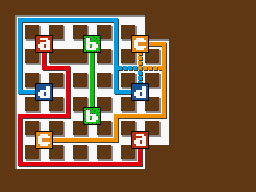 Draw the following paths as shown.
[edit]
Progress
650 Picarats and 46 Hint Coins.