CV022 - Pigpen Partitions
This is the twenty-second puzzle that appears in Professor Layton and the Curious Village. To access this puzzle, you must talk to Agnes. In order to solve this puzzle, you must use three ropes to separate the pigs into their own partitions.
[edit]
Messages
[edit]
When Failed
Try again!
Hurry and do something before the pigs start fighting with each other!
Have you ever seen a pigfight?
It's not a pretty sight!
[edit]
When Completed
Good job!
You've made a lot of pigs very happy.
[edit]
Solution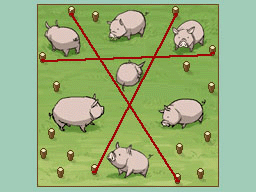 Place the ropes as shown.
[edit]
Progress
710 Picarats and 46 Hint Coins.