CV027 - Bickering Brothers
This is the twenty-seventh puzzle that appears in Professor Layton and the Curious Village. To access this puzzle, you must talk to Gordon. In order to solve this puzzle, you must seat the brothers correctly so that a brother isn't seated next to one that is directly above or below him in age, as well as making sure brothers 3 and 5 are not seated together.
[edit]
Messages
[edit]
When Failed
Nope!
They're an unruly bunch, so seat the brothers so they won't fight at the dinner table.
[edit]
When Completed
Good job!
Sit the boys as shown and there shouldn't be any trouble. The mirror image of this seating arrangement is also a valid answer.
Finally, a meal in peace.
[edit]
Solution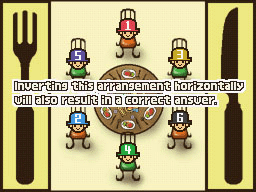 Seat the brothers as shown.
[edit]
Progress
875 Picarats and 52 Hint Coins.