CV028 - Find the Dot
This is the twenty-eighth puzzle that appears in Professor Layton and the Curious Village. To access this puzzle, you must talk to Matthew. In order to solve this puzzle, you must determine which point the black dot will be at when the shape in Diagram B is flipped.
[edit]
Messages
[edit]
When Failed
Too bad.
Focus on the relationship between points on the front and back sides of the shape.
[edit]
When Completed
That's right!
Take a look at the diagram for the answer.
[edit]
Solution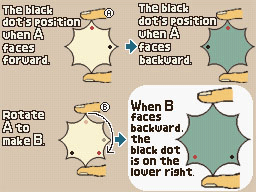 The black dot will be on the lower right prong.
[edit]
Progress
905 Picarats and 52 Hint Coins.