CV035 - Strange Dots
This is the thirty-fifth puzzle that appears in Professor Layton and the Curious Village. To access this puzzle, you must talk to Deke. In order to solve this puzzle, you must determine the number that D corresponds to.
[edit]
Messages
[edit]
When Failed
Too bad!
The answer relates to something you've seen thousands of times in your life. You might even be able to see one from where you're sitting right now.
[edit]
When Completed
That's right!
The dots on each die represent the hands on an analog clock.
[edit]
Solution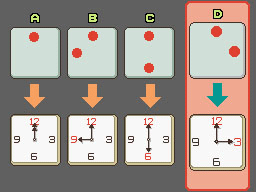 Die D corresponds to the number 3.
[edit]
Progress
1175 Picarats and 59 Hint Coins.