CV041 - Spare Change
This is the forty-first puzzle that appears in Professor Layton and the Curious Village. To access this puzzle, you must talk to Gerard. In order to solve this puzzle, you must determine how many coins will end up in the top half when the rope is pulled.
[edit]
Messages
[edit]
When Failed
Too bad!
Be patient and work steadily toward finding a solution.
[edit]
When Completed
That's right!
You'll gather up nine coins when the rope is pulled taut. It's really quite a simple puzzle, but following every coin's path does take quite a bit of time.
[edit]
Solution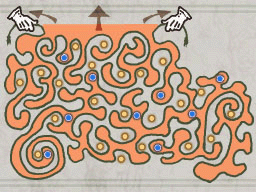 Nine coins will be gathered.
[edit]
Progress
1405 Picarats and 74 Hint Coins.
Related Threads
Spare Change puzzle 41
- last post by
@ Dec 31, 2008