CV044 - Stamp Stumper
This is the forty-fourth puzzle that appears in Professor Layton and the Curious Village. To access this puzzle, you must talk to Rodney. In order to solve this puzzle, you must divide the sheet of stamps into seven unique shapes, making sure each shape has a total value of $1.00.
[edit]
Messages
[edit]
When Failed
Don't give up!
It's not enough just to divide the stamps into $1.00 groups. Each of the seven groups must be a different shape.
The diagram here shows the stamps divided into $1.00 segments. However, the green sections are the same shape, so it's clear that this particular configuration isn't a valid solution.
[edit]
When Completed
Well done!
There are several ways to divide all the stamps into $1.00 groups, but this is the only way where the groups all form different shapes.
[edit]
Solution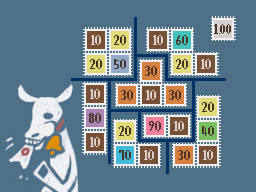 Divide the stamps as shown.
[edit]
Progress
1525 Picarats and 74 Hint Coins.