CV045 - Puzzled Aliens (US)
For the puzzle appearing in the UK version, see CV045 - Lunar Weight (UK)
This is the forty-fifth puzzle that appears in the US version of Professor Layton and the Curious Village. To access this puzzle, you must talk to Adrea. In order to solve this puzzle, you must determine the object the aliens are talking about.
[edit]
Messages
[edit]
When Failed
Don't give up!
Most people don't use this object often, but almost everyone has used this tool in school at one point or another.
[edit]
When Completed
Nice work!
When you think about it, the alien's description of a compass is pretty much spot on. Interesting how widely the perception of a single object can vary, isn't it?
[edit]
Solution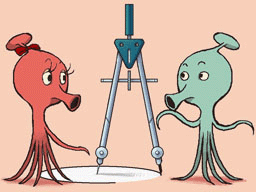 The aliens are describing a compass.
[edit]
Progress
1555 Picarats and 77 Hint Coins.