CV050 - OTTF? (US)
For the puzzle appearing in the UK version, see CV050 - Number Maze (UK)
This is the fiftieth puzzle that appears in the US version of Professor Layton and the Curious Village. To access this puzzle, you must talk to Marco. In order to solve this puzzle, you must determine which letter belongs on the blank card.
[edit]
Messages
[edit]
When Failed
Nope.
Look for a pattern or rule that applies to this arrangement of letters.
[edit]
When Completed
That's right!
The letters written on the paper correspond to the first letter in the numbers one through 10.
[edit]
Solution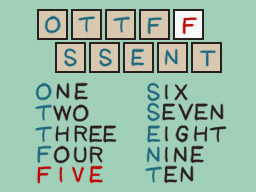 The letter "F" should be written on the blank card.
[edit]
Progress
1710 Picarats and 93 Hint Coins.