CV053 - Fish Thief
This is the fifty-third puzzle that appears in Professor Layton and the Curious Village. To access this puzzle, you must talk to Agnes. In order to solve this puzzle, you must determine which brother is lying.
[edit]
Messages
[edit]
When Failed
Too bad!
Remember, you're looking for the liar in the bunch, not the person who ate your fish.
[edit]
When Completed
The liar here is C. A and C split your dinner and each ate half.
The answer becomes clear when you realize that if A was lying, B must be lying as well. The same thing happens when you assume that B is the liar. Therefore, the only possible answer is that C is lying, a scenario that only works if C actually did eat some of the fish.
[edit]
Solution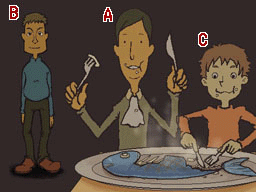 C is the liar.
[edit]
Progress
1775 Picarats and 99 Hint Coins.