CV059 - The Longest Path
This is the fifty-ninth puzzle that appears in Professor Layton and the Curious Village. To access this puzzle, you must talk to Marco. In order to solve this puzzle, you must determine the longest route possible between points A and B.
[edit]
Messages
[edit]
When Failed
Give it another shot!
As a general rule, you should try to cover as many of the roads as possible.
In the example above, it appears that the boy who walked the green path covered quite a bit of distance. However, as shown by the dotted lines, the roads this boy passed up on his way to point B add up to quite a distance.
[edit]
When Completed
Nice work!
Speaking of leisurely strolls, have you been outside today? If it's sunny, why not go for a nice walk?
[edit]
Solution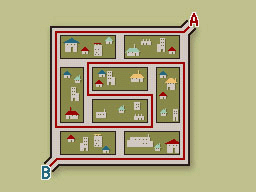 Take the path as shown.
[edit]
Progress
2005 Picarats and 112 Hint Coins.