CV060 - Weighing Cats
This is the sixtieth puzzle that appears in Professor Layton and the Curious Village. To access this puzzle, you must examine Claudia. In order to solve this puzzle, you must use the examples to determine if the scales will tip left, right, or stay balanced.
[edit]
Messages
[edit]
When Failed
Try again.
Use the results of examples 1 and 2 to find the solution.
[edit]
When Completed
Excellent!
If you replace the red and white cats with black ones, this puzzle becomes much simpler.
Once you make the replacement, you'll have six black cats on the right and six black cats plus a white one on the left. Thus, the scale must tip to the left.
[edit]
Solution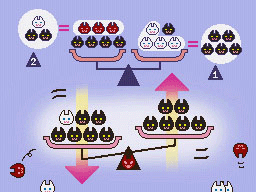 The scale will tip to the left.
[edit]
Progress
2035 Picarats and 115 Hint Coins.