CV061 - Pin Board Shapes
This is the sixty-first puzzle that appears in Professor Layton and the Curious Village. To access this puzzle, you must talk to Gordon. In order to solve this puzzle, you must construct a cross shape on the board containing 17 pins on the inside and 16 on the outside.
[edit]
Messages
[edit]
When Failed
Give it another shot!
Feel free to make the cross whatever size you like. The same goes for the direction it faces...
[edit]
When Completed
That's right!
This puzzle is a cinch once you figure out that the cross needs to be placed diagonally on the board.
Sometimes the only thing you really need to solve a puzzle is a little creative thinking.
[edit]
Solution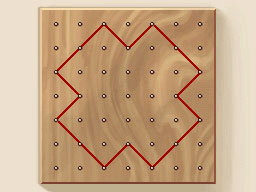 Draw the cross as shown.
[edit]
Progress
2075 Picarats and 117 Hint Coins.