CV062 - The Mysterious Note (US)
For the puzzle appearing in the UK version, see CV062 - A Tricky Inheritance (UK)
This is the sixty-second puzzle that appears in the US version of Professor Layton and the Curious Village. To access this puzzle, you must talk to Inspector Chelmey. In order to solve this puzzle, you must use the note to determine who the culprit of the crime is.
[edit]
Messages
[edit]
When Failed
Too bad.
Be sure to examine the note from all angles.
[edit]
When Completed
That's right!
If you flip the note upside down, you'll notice that the numbers resemble letters and that those letters form legible sentences. The message recorded there is "Bill is boss. He sells oil."
[edit]
Solution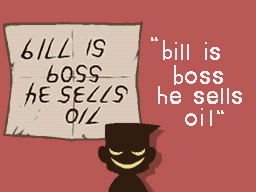 Bill is the culprit.
[edit]
Progress
2155 Picarats and 117 Hint Coins.