CV064 - Odd Equations
This is the sixty-fourth puzzle that appears in Professor Layton and the Curious Village. To access this puzzle, you must talk to Rodney. In order to solve this puzzle, you must determine what 7 + 6 would equal when using the above equations as guidelines.
[edit]
Messages
[edit]
When Failed
Too bad!
As a side note, you probably do math like this on at least a daily basis.
[edit]
When Completed
You are correct!
This puzzle is using time as a framework for the calculations. If you take six hours away from eight a.m., the time becomes two a.m. Move forward six hours from eight a.m. and the time becomes two p.m. Therefore, if you add six hours to seven a.m., you should arrive at the answer, 1 p.m.
You can, of course, reverse a.m. and p.m. and still find the solution.
[edit]
Solution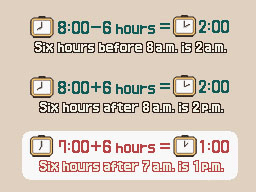 Seven plus six equals one using these rules.
[edit]
Progress
2205 Picarats and 118 Hint Coins.