CV066 - Birthday Girl (US)
For the puzzle appearing in the UK version, see CV066 - Five Borrowers (UK)
This is the sixty-sixth puzzle that appears in the US version of Professor Layton and the Curious Village. To access this puzzle, you must talk to Lucy. In order to solve this puzzle, you must determine the woman's birthday using her statement.
[edit]
Messages
[edit]
When Failed
Too bad.
Her explanation might seem convoluted, but it's absolutely possible.
[edit]
When Completed
That's right!
Her birthday is January 2nd, and your conversation with her must have taken place on December 31st.
As you can see on the chart above, the woman was 19 on New Year's Day last year, and she turned 20 the next day. This year, she turned 21, and in two days, after the new year starts, she'll turn 22.
[edit]
Solution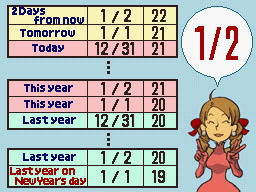 Her birthday is on January 2nd (1/2).
[edit]
Progress
2315 Picarats and 119 Hint Coins.