CV067 - How Many Sweets? (UK)
For the puzzle appearing in the US version, see CV067 - The Chocolate Code (US)
This is the sixty-seventh puzzle that appears in the UK version of Professor Layton and the Curious Village. To access this puzzle, you must talk to Lucy. In order to solve this puzzle, you must determine how many sweets the three boys have between them.
[edit]
Messages
[edit]
When Failed
Too bad!
[edit]
When Completed
That's right! There are nine sweets in total.
The difference between the number of sweets A and B have is two. If B had one more sweet, he would have twice and many as A. Therefore, A + 3 = 2A, which means A has three sweets. B must then have five, as he has one less than twice what A has. If C had two more sweets he would have the same as A, so he must have one.
[edit]
Solution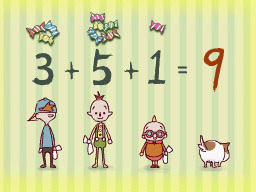 The boys have nine sweets in total.
[edit]
Progress
2385 Picarats and 119 Hint Coins.