CV075 - The Wire Cube
This is the seventy-fifth puzzle that appears in Professor Layton and the Curious Village. To access this puzzle, you must talk to Agnes. In order to solve this puzzle, you must determine the fewest number of wires that must be used to create a wire cube.
[edit]
Messages
[edit]
When Failed
Give it another shot.
[edit]
When Completed
You need four wires to make the cube.
Three straight lines make up each of the cube's eight corners. At least one wire must terminate at each corner. Since there are eight corners, you'll need eight wire ends to form things properly. Each wire has two ends, so the total number of wires needed is four.
[edit]
Solution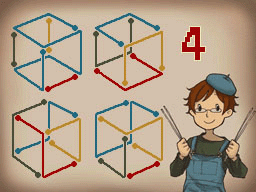 Four wires are needed.
[edit]
Progress
2705 Picarats and 130 Hint Coins.